Return to Pearson Info . . . | 34 | 34-2 | Alberg 35
Brochure
1983-1986 P34
Late 80's P35-2
---
Designer    Shaw   Main Area    241   Hull Speed   7.11
First Year  1989   For Tri      310   SA/D         17.3
Last Year   1991   I           44.3   D/L           231
LOA         34.5   J           14.0   BR            39%
LWL         28.1   P           38.5   L/B          3.00
Beam        11.5   E           12.5   LWL /B       2.45
Disp      11,500   Eng            D   OR            18%
Draft        4.0   Fuel          22   CSF          2.04
Sail Area    550   Water         70   MCR          22.7
Ballast    4,500   Mast Height 46.8   M/F          0.78
                                      PHRF          144
Info on Design Ratios
---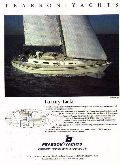 ---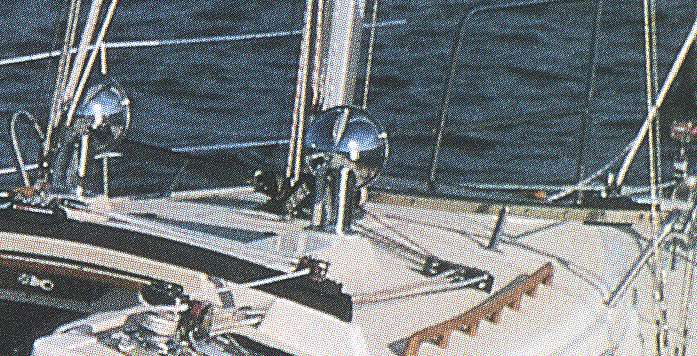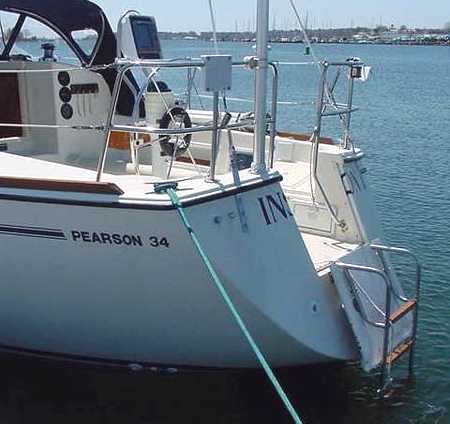 ---
Some info on the 34-2/35-2
I think the 34-2 is the same boat as the 35-2 without the swim platform and the 35-2 has more sail area at 660 vs 550 but that may be incorrect as I will get too later. The 35-2 was produced right at the end of Pearson (90-91) so far as I can tell and one or two may have been built in 97 by the failed Cal-Pearson corp. The 34-2/35-2 was available in deep or wing keel according to the literature. The 34-2 also came with an optional self tacking headsail on a track ahead of the mast. Very interesting.

34-2 PHRF is listed at 144, the 35-2 at 126. The 144 for the 34-2 is probably the wing keel and the 126 for the 35-2 is probably the deep keel. I think these boats have the same rig. The data I have for the 34-2 is identical to the 34 and I think that's a mistake. The 35-2 is definitely the same hull and the mast is in the same place so the J should be the same. My listing has identical numbers for the 34 and 34-2 and I bet that's not correct. That's what my sources had but I bet they have it wrong.