Return to Pearson Info . . .
These logo sheets were scanned at 600 dpi gray scale to improve reproduction quality. The images are very large (3,972 x 5,888 pixels) but compresses well in GIF to about 630K. Browsers may have a hard time displaying the large files but an image processing program (e.g. PhotoShop, Paintshop Pro, Corel Photo Paint) can handle them. Right click on the thumbnails and choose "Save Target as..." to save the 600dpi file to disk.

These logo sheets were provided to dealers for advertisement use. The originals I scanned came from a Dealer Aids binder that Pearson distributed to the dealers.
---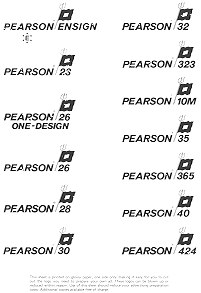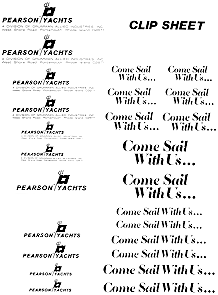 ---
PDF Format Logos

Blue Pearson Yachts flag logo in PDF format
Black Pearson Yachts flag logo in PDF format
Pearson Yachts logo in PDF format
Model logos in PDF format
---
Adobe Illustrator Format Logos
Right click and choose "Save target as..." to copy to your hard drive.
P30 Large
10M Large
Pearson Yachts
Pearson Flag
Pearson Logos