Pearson 36-2 Maintenance Notes

Return to Pearson Info . . . | 36 | 36-2 | 36 Cutter
---
Back to 36-2 photos...
Schematic Drawings from Manual (PDF file)
---
P36 detail photos from Paytman@aol.com.

Inside the Isomat mast of a 36-2
Note the T flanges of the extrusion with the split PVC tubing slid over for wiring.


Details from the RigRite web site:
Isomat NG-70 Mast
Measurements (OD): 8.66" x 5.71" (220mm x 145mm)
Wall Thickness (minimum): .152"
Weight/ft.: 4.77 lbs.
Moments of inertia: Ixx = 34.36", Iyy = 15.98"
Circumference: 23 3/8"
Alloy: 6061-T6
Sail slides: 15/16" flat slides (A008M)
Standard Mast Lengths: 50'10" (15,500mm)
Common Mast usage: Bayfield 40K Main; Catalina 380*; Cabo Rico 38;
CS 40*; Gozzard 36; Fairweather 39; Hunter 37.5*, 40*; O'Day 39;
Pearson 36-2*, 37*, 422; Tartan 40*; Tayana 37*;

---
Jiffy Reefing diagream for Isomat boom on 36-2
(same boom configuration found on 31-2, 33-2, 39-2, and others?)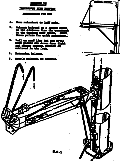 ---
Info on rudder from NPYOA forum....

Re: P-36 (1986) Rudder Play
From: Dave Nance
Location: Houston / Annapolis
Date: 13 Apr 2004
Time: 20:09:09

Comments
There is no packing gland on the rudder shaft. The top of the shaft exits the rudder support structure (a box molded to the hull) above the water line. There are nylon bushings in the structure and where the rudder post meats the cockpit floor that are the bearings. They can be replaced by removing the pins in the steering quadrant above the structural box and droping the rudder. New bushings will probably have to be machined as I doubt that they are avaliable. It may be a standard size used by other current boat manufactures or it may be avaliable from D&R Marine. It is worth a try at D&R. You can check the play in the top bushing by looking in the hole for the emergency tiller while someone moves the rudder fore and aft and side to side. This may tell you if it is a worn bushing or a problem in the rudder post or in the rudder itself. Crawl back to the rudder quadrant and watch for play below the quadrant also while someone wiggles the rudder. Its not an easy job to replace the bushings and requires a lift to raise the boat high enough to drop the rudder or a deap hole to drop the rudder into. Bert Jabins in Annapolis has a pit to do this work as it is not an uncommon problem on blue water cruising and race boats. I am a little supprised that your rudder bushing has worn that much. I would check the support structure carefully for cracks and also the rudder at the post for any play. We have over 15,000 miles on our P36, about half offshore and have only a slight play. Good luck. I would be very interested in your outcome.
---