Return to Pearson Info . . . | 32 | 323 | Vanguard
Maintenance Notes
Brochure | One Page B+W Flyer
---

Designer   Shaw   Main Area     194   Hull Speed  7.03
Model #      58   For Tri       283   SA/D        14.0
First Year 1976   I            41.0   D/L          275
Last Year  1983   J            13.8   BR           36%
LOA        32.3   P            36.0   L/B         3.15
LWL        27.5   E            10.8   LWL /B      2.68
Beam       10.3   Mast Height  45.3   OR           15%
Disp     12,800                       CSF         1.75
Draft       4.4                       MCR         30.6
Sail Area   478                       M/F         0.69
Ballast   4,500                       PHRF         180
Info on Design Ratios
---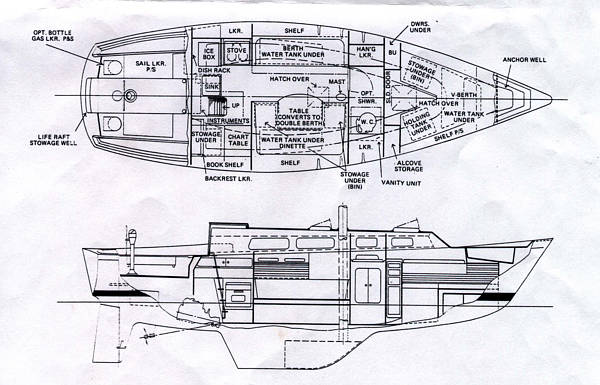 ---
1979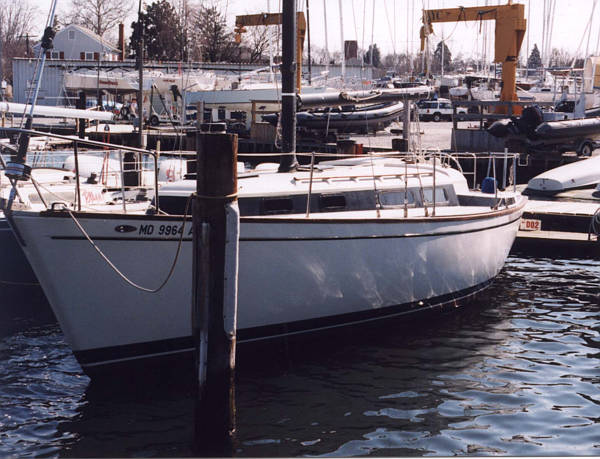 ---
1981 sans bandit stripe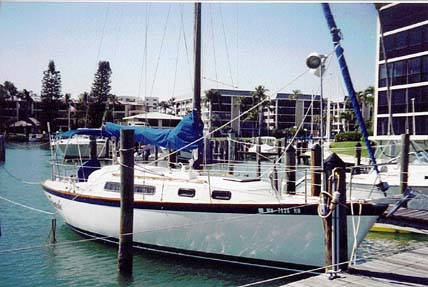 ---
Optional quarter berth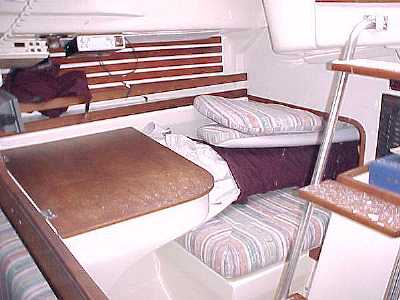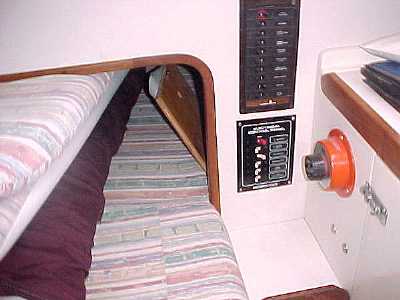 ---
Anchor Roller/sprit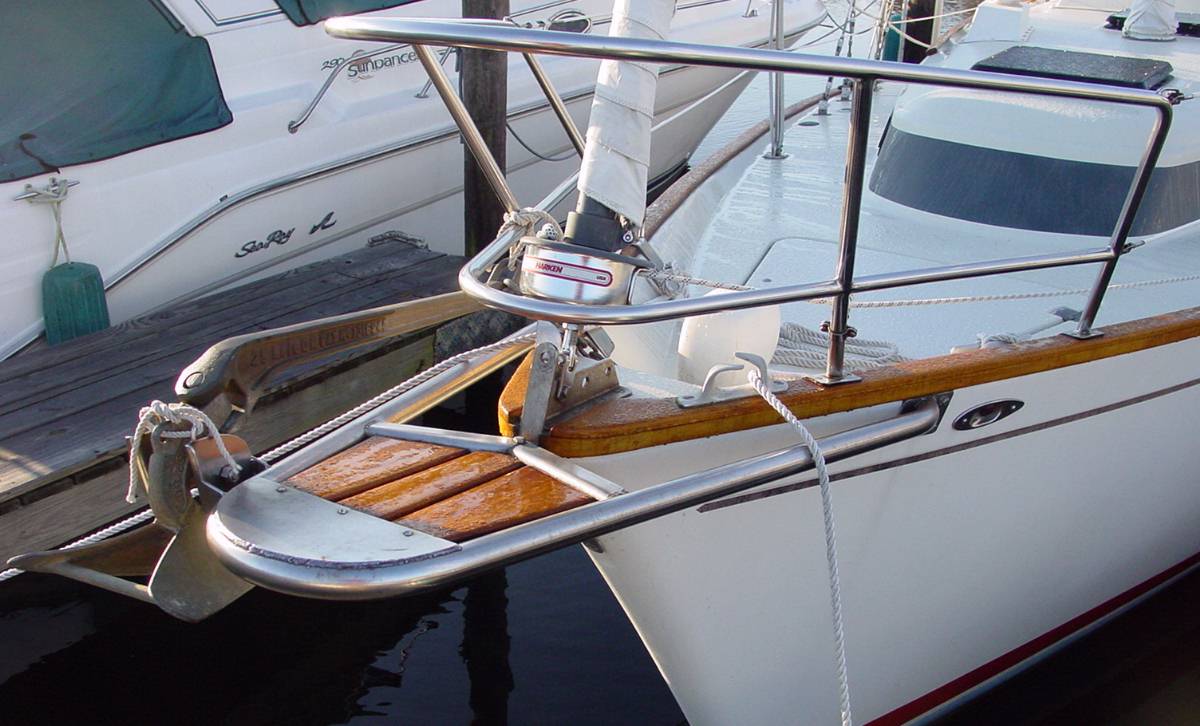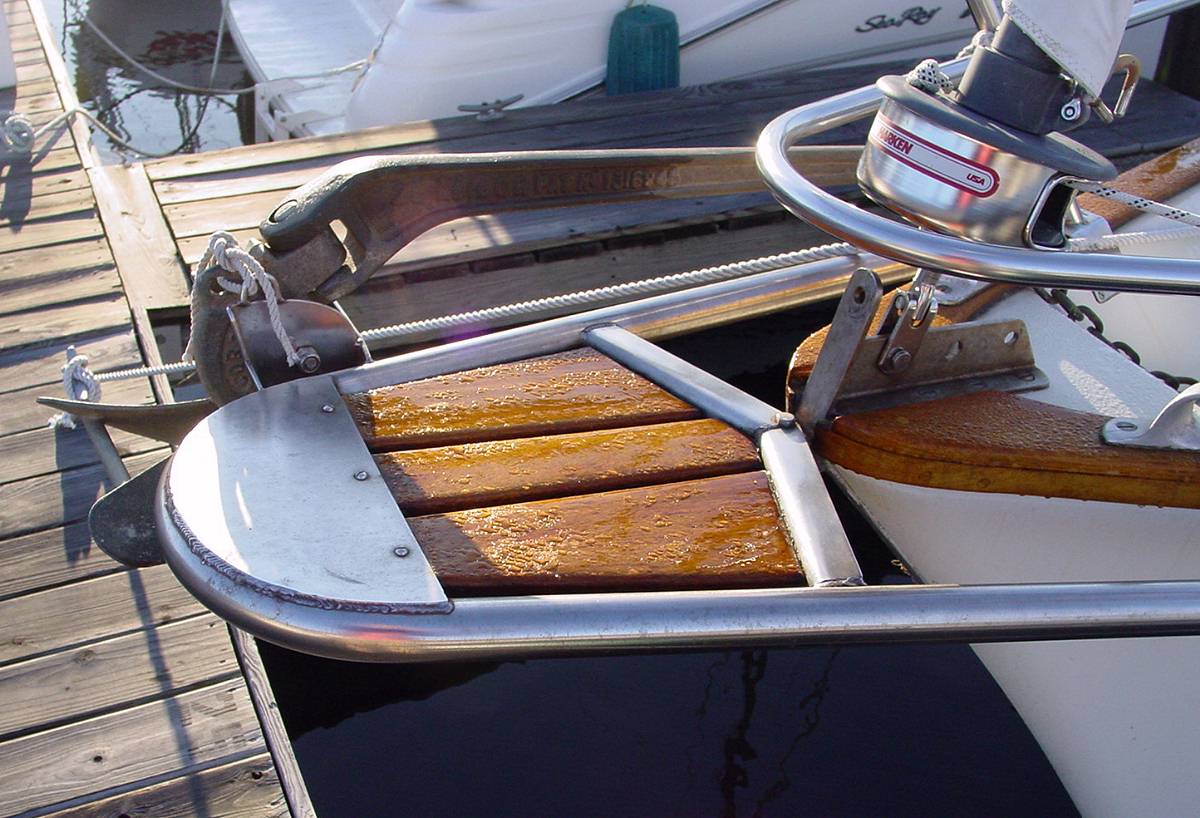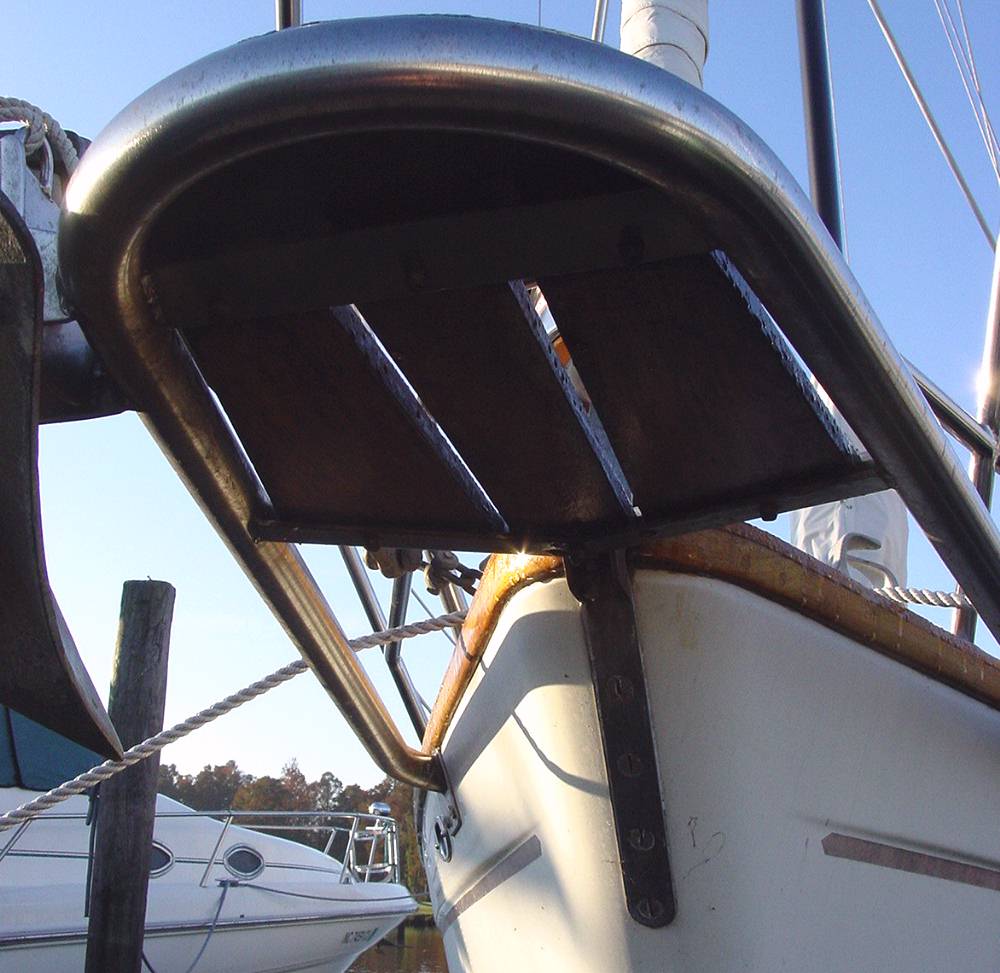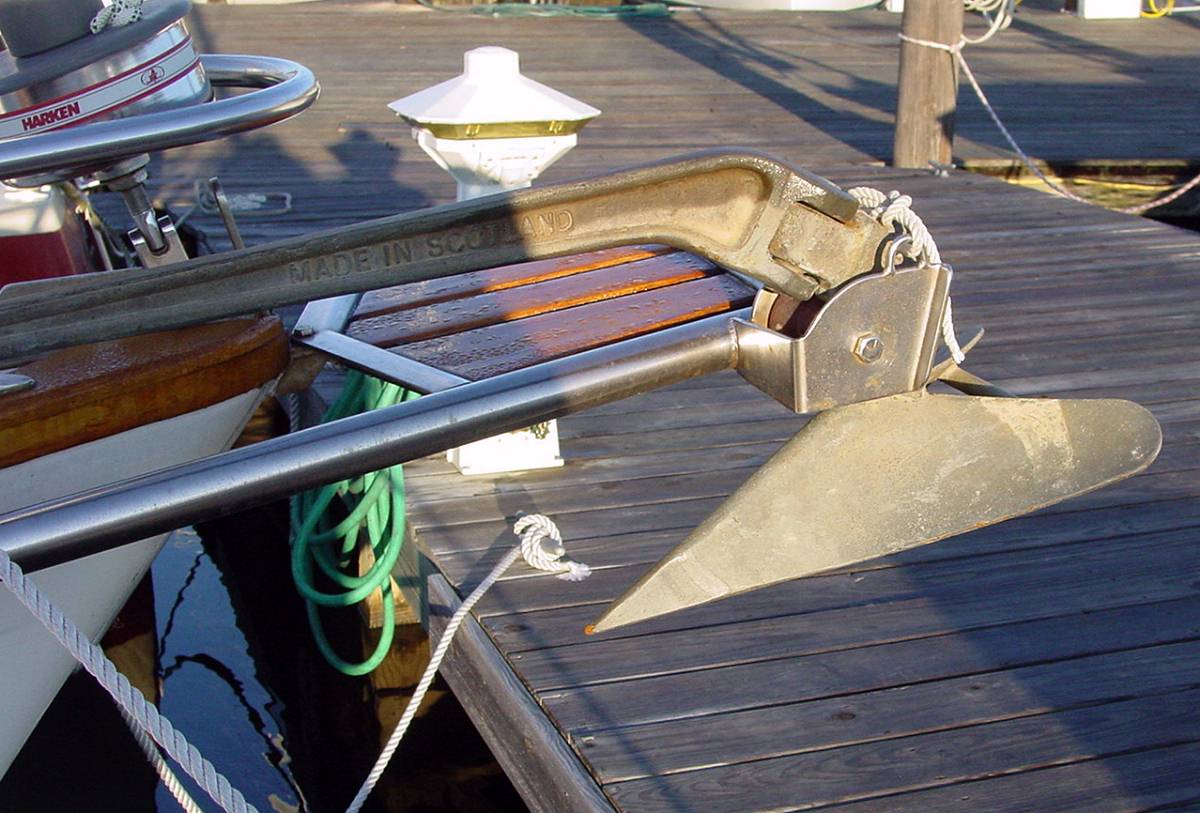 ---
Optional Propane Lockers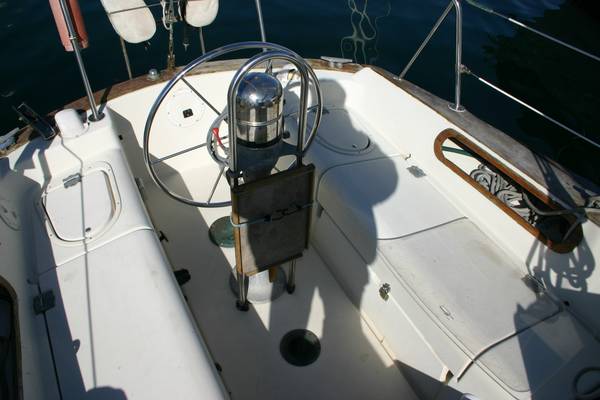 Swing out head sink

Atomic Four with V-drive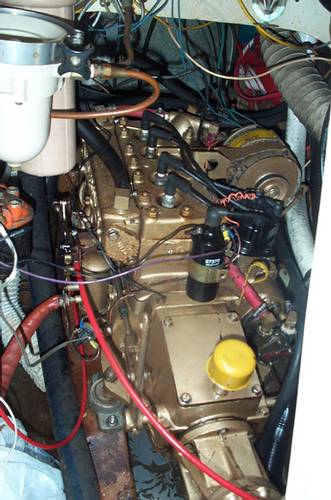 ---
323 refit with stern rail seats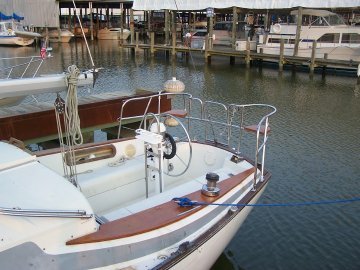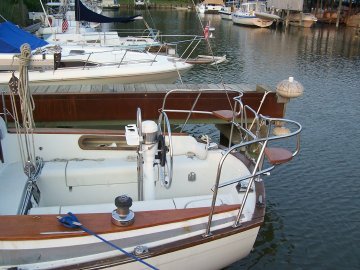 ---
Bill Shaw's Letter About the Pearson 323
The Boat

You may be interested in what was going through my head while I was designing the new 323. In a nutshell…the young adults of America, to my way of thinking, are bringing an exciting new dimension to sailing. A dimension that reflects their attitudes-lifestyle, values and approach to their leisure time activities.

Be It skiing, surfing, camping, canoeing or sailing, the younger generation is doing things with a flair that cannot be denied. They're seeking quality, style, performance, informality, resale value and no hassles.

Then too, after a couple of my recent trips to the continent, I came away impressed with some of the international styling and innovation. Functional, pleasing touches that, in my opinion, deserved consideration.

So I set about to design an honest cruising boat with youthful ideas and an international flavor. The 323's underbody configuration is as modern as her profile is traditional. To look fast is one thing. To go fast in comfort is quite another. After all, the water is only concerned with what it touches. The combination gave me a big, roomy 32- footer that really gets up and goes. But to look classic doesn't mean you have to leave out fresh ideas, so the 323 has a lot of refinements like a recessed anchor well forward, compartments aft for propane gas cylinders and 6 man life raft, a molded-in chart table, smoked windows, an accent stripe around the coachroof and a number of other refinements both above and below decks that I consider a real progress in both design and construction.

Oh, one more thing. With the price of things today climbing the rigging, I had to develop some procedures that would maintain or improve our quality while holding or reducing costs. We did that too. So take a real close look at our new 323.

She features the best of international design for today's young at heart.

Sincerely,
William H. Shaw
---
Description from Pearson Literature
The New Pearson 323 is raising a lot of eyebrows. It's also raising a lot of questions. "How are you going to describe her? She's so different!" Good Point. So we Decided to do it with pictures and let you be the judge of this remarkable new 32 foot cruising machine.
Any beautiful day is made more perfect by this spacious and accommodating 32 footer. Whether you're off on an extended cruise or a daysail, she'll turn heads wherever you go.
The chart table opens for storage while the surrounding bulkheads are designed specifically for easy reading of instrumentation.
Lounging under an awning or leaning into it under a full spread sail, the cockpit of the 323 is human engineered to be as comfortable on any angle of sail as she is at rest. Note propane stowage wells.
The galley gourmet will delight in the efficiency built into this sailing kitchen. Serving drinks or a full course meal, you'll appreciate the thought put into it.
The only rule to which she was designed was the personal rule of Bill Shaw…that a boat should be safe, attractive and a delight to sail.
The new Pearson 323 has a distinct international flavor about her. Different. Fresh and alive. Ready to be judged today for her innovations, and, tomorrow, for the accuracy of her predictions.
What a perfect spot for those fun-filled apres sail hours. Break out the cheese and wine and invite the gang over.
More of a lounge than a berth. A Pearson-designed interior makes living afloat as comfortable as your own den.
Sometimes you're running a little late. Set the chute and go. You'll be there sooner than you think.
Quality does, indeed, speak softly. The multi position table suits all heights or can easily be lowered to form a comfortable double berth.
When all is said and done, fun, relaxation and confidence in your boat is what it's all about. Come sail with us…
Bill Shaw provides his thinking on the overleaf. And if our photo captions don't coincide exactly with the advantage you see to a design or construction detail, select the benefit you personally will derive most and let us know. When we say, "Come Sail With Us"… we mean it.
Continental influence is everywhere in the new 323.
Contemporary. Not extreme in any way. Practical, but beautiful.
The 323's full ends enable our designers to do wonders with the forward stateroom .You find it difficult to believe that you're aboard a 32-foot boat.
"Now why didn't they think of that before!" The recessed anchor well forward is only one reason we hear it so often. Clean, neat, tidy and always available.
Comfort the key consideration… The wash basin is there when you need it, tucked away when you don't.
Do it now… before it's too late.