Dockside Pressure Water System
|| Pyxis Home Page | How To Page | Projects Page | Dan's Home Page ||
---
Plumbing
This season I installed plumbing for pressure water at the sink while at the dock. There is an inlet/regulator in the engine well that I connect the dock water hose to. This leads to the sink via a 2-stage filter to for contaminants and particulates. There will also be a feed after the filters to fill the onboard water tank with filtered water. There is also an un-filtered lead at the sink. I may add a faucet in the engine well for rinsing things off.

Filters
The filters are Sears Under Sink units (#42 34380) which accept a variety of cartridges for taste/odor, lead, chemical, and particulate filtering. The $14 units are heavy duty plastic and quite well built. I do not foresee any corrosion issues with them.

The filters and valves are installed on the bulkhead at the forward end of the port cockpit locker. There is a valve on the inlet, and two valves after the filters. One leads to the sink, the other to the onboard water tank. I have mounted the faucet on the galley cabinet. I used a laundry tub faucet from Sears ($20). It has threads on the end to attach a hose and it's fairly compact. I mounted it aft of the sink at the inboard edge where the faucet can be swung out to fill larger containers that wont fit in the small sink (I will be on the lookout for a deeper sink). The faucet has two knobs. One is filtered, the other non-filtered.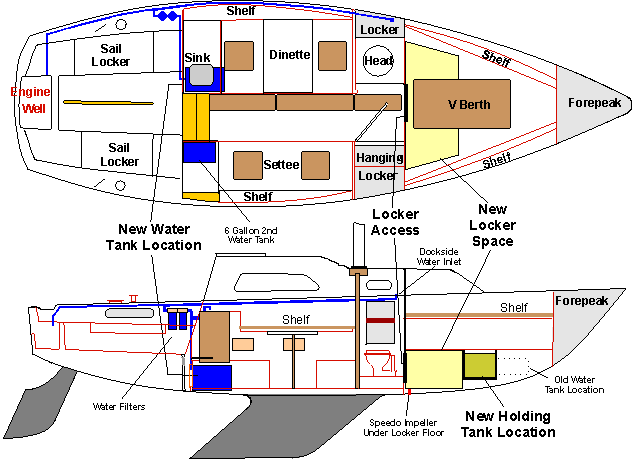 | | |
| --- | --- |
| | This is a rather crude photo showing the filter installation and the valves for the system. The bottom valve is inlet, the middle is the feed to the water tank, the top is the feed to the faucet in the gally sink. There is also an un-filtered feed to the sink that taps off after the inlet valve in the middle of the photo. |
| | This is the Shurflo 183-029 inlet/regulator in the engine well. I drilled and tapped the mounting holes for 10-24 screws. The tube in the corner leads to the fuel tank "cubby hole". |
| | This photo shows the faucet installed at the galley sink. The lefthand knob is filtered, the right un-filtered. The small spigot connects to a foot pump that's fed from the water tank. This photo also shows the microwave I installed outboard of the sink. It is fastened to the counter top. |
Parts List
2 Filter housings - Sears #42 34380

3 PVC ball valves - 3/4"

Laundry tub faucet

3/4" hose connectors, adaptors, tees, and elbows

3/4" reinforced hose

Water inlet/regulator - Shurflo 183-029

Hose clamps

mounting straps for valves

Hardware

Teflon tape

Faucet connector hoses

---
V-Berth Locker Project
P26 Interior Layout Drawing
Interior Photo Looking Aft