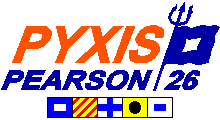 ---
Pyxis is Sold
Click here for trailer info...
---
Spring 2002

After 8 great seasons with Pyxis we are ready to move up. Last summer we closed on a 1978 Pearson 10M that's in excellent shape and should provide us with many years of enjoyable and comfortable cruising. I have had the 10M at or near the top of my "move up to" list for many years. We looked at 8 10M's over the past 6 months and I got a great ride on one for a Lake Erie passage in moderate weather that confirmed the 10M's sailing qualities to me (wow that's a stiff boat!). The 10M we bought is #212 and will be moored in Georgetown, MD until summer 2002 when we will move it to Edenton, NC to be as close as possible to our soon to be home in Winston Salem, NC (I know, W-S is too far from the water). Look for the Pearson 10M website soon. The URL will be,

http://dan.pfeiffer.net/10m/


We were planning on moving up to a larger boat in 3 or 4 years. Developments in our professional lives (e.g. not our real lives) have us moving from Cleveland, OH (25 minutes from the boat) to Winston-Salem, NC (4+ hours from real cruising grounds) in June of 2002. The distance means the use of the boat will be very different and we wanted amenities to sustain us in comfort for weekends and multi-week cruises. The 10M fits the bill very well and possesses the sort of sailing qualities I have come to value.

Over the years I have run my P26 web site I have been in touch with almost 300 owners and former owners from all over North America and a few across the pond. I think this sort of networking is the Internet at it's best. I will keep the P26 website on line and I hope to continue to hear from owners. And I will continue to respond, as best I can, to technical questions.
---
---